Invitasjon Vinterferiecamp 2014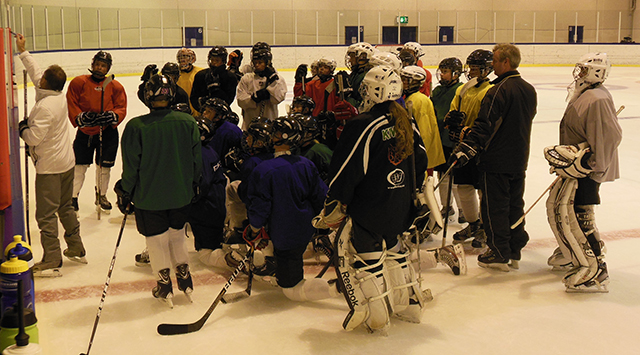 I vinterferien (24 – 28. februar) arrangerer Stavanger Hockey Vinterferiecamp for spillere født 2001, 2002, 2003 og 2004.
Vi har plass til ca 50 spillere utespillere, i tillegg kommer keepere. Deltakerne blir delt inn i to grupper, og få to økter på is hver dag. Mellom isøktene blir det off ice-trening. Det vil bli servert en lettere frokost for de som ønsker, og et varmt måltid til lunch.
Hver dag starter ca. kl.08.30 og avsluttes ca. kl. 15.30. Vi kommer tilbake til eksakte klokkeslett og treningsoppsett.
Ansvarlige trenere for campen blir Eirik Haukali og Kjartan Haugland Johansen, en målvaktrener, pluss inntil to hjelpetrenere på hver gruppe. Praktisk organisator for Vinterferiecampen er Ernst Falch.
Ved påmelding, husk fyll ut fullstendig navn på spiller, fødselsdato, posisjon, klubb, navn på foresatt, telefonnummer og email-adresse, samt om spilleren ønsker frokost. Påmelding blir registrert fortløpende og er bindende. Blir campen fulltegnet er det først-til-mølla prinsippet som gjelder.
De som får tilbud om plass må bekrefte påmeldingen ved å betale deltageravgiften på kr. 2.400,- til Stavanger Hockey, Pb 616, 4090 Hafrsfjord, kontonr 32302470714 innen 15. februar.
Husk å merke betalingen med spillerens navn og Vinterferiecamp 2014. Ved søsken er det som tidligere søskenrabatt på kr 700,- fra og med barn nr 2. Innbetalingen for barn to merkes med spillerens navn, Vinterferiecamp 2014 og søskens navn.
Foreldre må påregne og ta en til to foreldrevakter i løpet av Vinterferiecampen.