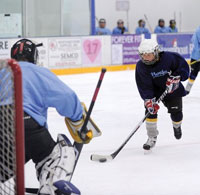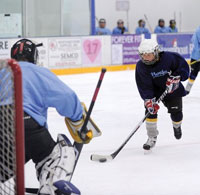 Uke 33 (12.-16. august) arrangerer Stavanger Hockey og Stavanger Oilers sommerhockeycamp for spillere født 2004, 2003, 2002 og 2001.
Vi har plass til ca 50 spillere, inkludert keepere. Deltakerne blir delt inn i to grupper, og få to økter på is hver dag. Mellom isøktene blir det off ice-trening. Det vil bli servert en lettere frokost og et varmt måltid til lunch.
Hver dag starter ca. kl.08.30 og avsluttes ca. kl. 15.30. Vi kommer tilbake til eksakte klokkeslett og treningsoppsett.
Ansvarlige trenere for sommercampen blir Laura Rollins, hovedtrener gruppe 1 samt Eirik Haukali, hovedtrener gruppe 2. Peter Andersson fra Oilers vil som sist være hovdtrener for målvaktene. I tillegg til dette vil det være inntil to hjelpetrenere på hver gruppe.
Påmelding gjøres til karen@oilers.no. Ved påmelding, husk å oppgi:
Fullt navn på spiller, fødselsår, posisjon, klubb, navn på foresatt, telefonnummer og email-adresse.
Påmelding blir registrert fortløpende og er bindende. Blir campen fulltegnet er det først-til-mølla prinsippet som gjelder.
De som får tilbud om plass må bekrefte påmeldingen ved å betale deltageravgiften på kr. 2400 til kontonummer 3230.24.70714 innen 28.06.
Husk å merke betalingen med spillerens navn og sommercamp 2013.